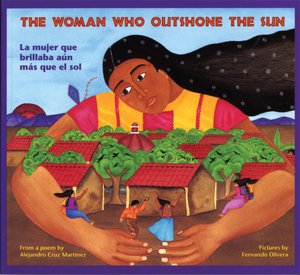 This was such an enjoyable lesson for me! I grew up in San Antonio, Texas and have quite an
attachment to Mexico so teaching my students a little bit about Mexican culture was wonderful.
We started by discussing fairy tales and why cultures create and retell fairy tales. We read the Zapotec legend, "The Woman Who Outshone the Sun". It's a beautiful tale about Lucia Zenteno, a stunning but different woman who was driven out of her village because the people did not like her. It was a great story to talk about respecting each other even when we are different from each other (LOVE it!!). We also discussed what type of animals, tress, plants and landscape we saw in the book.
Next I talked with them about Mexican tin ornaments and what kind of images Mexican craftsman would use on their ornaments and why. I shared with them how geometric patterns were used in Lucia Zenteno's time as well as today.
The kids all chose something from the book as a starting point. I supplied many of them with pictures of iguanas, fish and other animals indigenous to Mexico that they saw in the story. They carefully drew their subject on small paper.
I think the best part for them was learning how to use a stylus. Thanks to NintendoDS, many of them already knew the word
stylus
;). They transferred their drawings onto sheets of tin using the stylus. After they completed their outlines I encouraged them to add lots and lots of details so they would get a really good grasp of embossing into the metal. When the embossing was complete they used permanent markers to add color.
Many of the kids built little frames with cut up paper and markers around their tin pieces. They loved using brads to attach the tin!
I hope the kids enjoyed learning about Mexico, ancient fairy tales and learning how to emboss metal as much as I loved sharing it with them! I hope this coming year we can get more elaborate with the metal and make larger pieces.